FREE YOUR SOUL IN MOROCCO
01.-07.12.2024
&
04.-11.01.2025
Do you want to escape your everyday life?
Wake up to birdsong and the sound of the muezzin?
Yallah, join us for a retreat in Tamraght, a beautiful little surfing village in magical Morocco.
YOGA
Stretch your body, caress your soul and welcome the rising sun with yoga, African dance and meditation, surrounded by mountains, long white beaches, dromedaries, goats and the sea. The yoga is suitable for all levels. Due to the small group size, individual topics can be addressed wonderfully.
WORKSHOP
Enjoy a hearty breakfast and then spend the morning in the protected space that we create together in our workshops. This is perhaps your most precious time to get in touch with your desires and needs. You will encounter blockages that stand in the way and learn to dissolve them through loving acceptance and targeted exercises.
FUN
A delicious lunch is followed by afternoons where you can simply do nothing, or surf, discover Moroccan culture, go to the hammam, hike, ride a horse, skateboard, laze on the beach or go for a walk by the sea.
RELAXATION
After we have spoiled you again with a delicious traditional meal, we end the day quietly and on two evenings with a wonderful surprise.
"I feel infinite gratitude that you exist and what beautiful people you attract and connect. You yourself radiate such freedom and strength and at the same time you care warmly for the people around you. I have learned so much these days and wish you lots of strength and energy for everything that is yet to come! It's so nice that you exist! See you next time! Inshallah!"
"Dear Lena ,

I am very happy to have experienced such a wonderful retreat in Morocco together with you and the other great girls. I learned during this trip that it is not bad to let go of things and try new things like yoga :).

I am grateful for all the beautiful moments and that you showed me a completely different Morocco than the one I got to know 20 years ago.
The people here are just so lovely and helpful and even if you don't always speak the same language, you can tell from their friendly looks that you are welcome. All the encounters and experiences such as drinking tea with Sheriff at the campfire on the beach, sand boarding in the dunes, riding out together, as well as the trip with Mohamed to Paradise Valley, make our friendship even more valuable and make my heart glow.

Thank you for being an energetic woman with all your ideas and dreams and for having such a great man by your side. Together you are such a great, unbeatable team. Thank you for sharing your wonderful life with us so closely.

Love to you"
"Your open heart and cheerfulness impress me very much. I am very grateful for your input and the different ways to deal with his life.
You are an asset to my life!"
"What I want to tell you is far and wide! Full of trust and love in my heart, you are my soul sister! Take good care of yourself!"
"I rejoice that you have healed my jar and I am grateful that you have taught me where the source is within me to fill myself up."
"From the first moment one feels well taken care of by your loving charisma and your empathetic manner and one has the feeling of finally being heard and understood. Already within three weeks I have learned more about myself, as the whole life. I can only recommend the coaching with Lena! Thank you for what you do, your being and your love for people."
"The time with you, dear Lena, was just wonderful! I enjoyed this week in Morocco so much and it has shaped me. I think of it very often and with much love. Next time I will be very happy to be there again!"
"Thank you for showing me what I can do for myself. Thanks that I can be so open with you."
"Lena's teaching style is clear and direct and she is excellent at teaching strong, spiritually based yoga. She will help you find that connection that you have been looking for."
"I just loved Lenas African dance class. It was an amazing, grounding and energizing experience for me. Lenas Energy when dancing was so alive and infectious and I can definitely recommend her class to anybody!!"
"Thank you from the bottom of my heart for the great coaching! It was again very eye and heart opening and has brought me a big piece further to myself. I am totally impressed how you managed to create such a great energy in the group. I felt totally comfortable and that made it easy for me to open up. Thank you very much"
"Thank you so much for inspiring me to let out my free spirit, for supporting me to trust in something bigger than we are and also to trust myself. Thanks for your wonderful being & to show me how life can look like on such an authentic and nice way you a re living it. Thanks for helping me to grow, to understand things, to get new ideas ad to change things in life. Lots of love!"
"Dear Lena, the world would be very quiet if you did not exist. I was strengthened by you to defend my needs and to listen to them. I also admire your partnership with Mohamed, because together you just bubble with love and give it to others. Good people are what the world needs!"
"Dear Lena, your coaching on the topic -saying no- touched me very much. You have a zest for life that inspires me again and again. It was well structured and at the same time thanks to the small group size enough time for personal exchange. From this coaching I take away new insights about myself and my communication. Thank you for your time and energy."
"The coaching sessions with Lena are simply a wonderful and provide helpful food for thought on how to stop getting in your own way and break out of previously unconscious habits."
"What a power woman! What a charisma! With her wealth of experience and through her wisdom, Lena knows immediately where your triggers are."
"I was amazed at what I could do the first time I tried yoga with Lena. She is simply amazing."
"I am so grateful to you for the coaching sessions as so many things have cleared up in me. It is always uncomfortable to deal with yourself. The coaching sessions with you have done so much good and I have taken so much with me."
"Lena, you changed my life, now I want to take care of myself."
"Lena adds the soul to the movement!"
"That was the best Yoga I ever experienced"
"Lena's "free your soul retreat", was definitely one of the best things I have ever done to myself! A true gift to practice Yoga alongside with Lena, who has profound knowledge and knows exactly what she is teaching. With her passion, her kind heart and her openness she created an atmosphere full of trust, love, joy and happiness."
"Thank you so much for the retreat, great yoga morning sessions, African dances and insightful workshops- you splashed us with intensive moments blessed with your energy!"
"Lena has the greatest energy, spirit, personality and husband. I had the best time with the perfect mix of organized lessons, spontaneous trips and free time with and without Lena. The yoga lessons were a perfect combination of strength, stretching and relaxation and held in the nicest locations! The workshops were super useful and the whole atmosphere made me feel like I've known Lena, Mohamed and the other participants for years instead of just a few days! Thank you Lena!"
"Lena, you changed my life, now I want to take care of myself."
"I thank the universe for bringing us together. You filled my heart in a time of emptiness and uncertainty. You shine from within and I am grateful to have received and carried some of that light with me. To illuminate my new path a little:) I very much hope to see you again! Feel hugged and loved"
"You created a wonderful space where we could just be. Thank you for the authentic Morocco experience and for everything you have to give!"
ABOUT ME
I am a certified journalist, yoga teacher from Germany, trainer for non-violent communication, Reiki practitioner I&II, balancer in kinesiology, African dancer trained in Gambia, and currently in training with Eckhardt Tolle.
ABOUT MOHAMED
A good mood and a big smile guaranteed. Mohamed has degrees in economics & tourism, teaches surfing, skateboarding, is an artist, designer, and the best travel guide. He loves to show you everything you want to know about Morocco.
ACCOMODATION
Our home for the week is a colorful, traditional riad with three fantastic terraces overlooking the sea. Family run by Ayoub, his brother Noah, and his wife Soumeia, who is a fantastic cook and will spoil us all week with incredibly delicious traditional cuisine. There is a pool, fruit trees and small cozy hangouts that are available to you at any time.
This retreat is your gift to yourself and has the potential to change your life forever.
We can't wait to get to know you and spend an unforgettable time together.
From the heart, Lena & Mohamed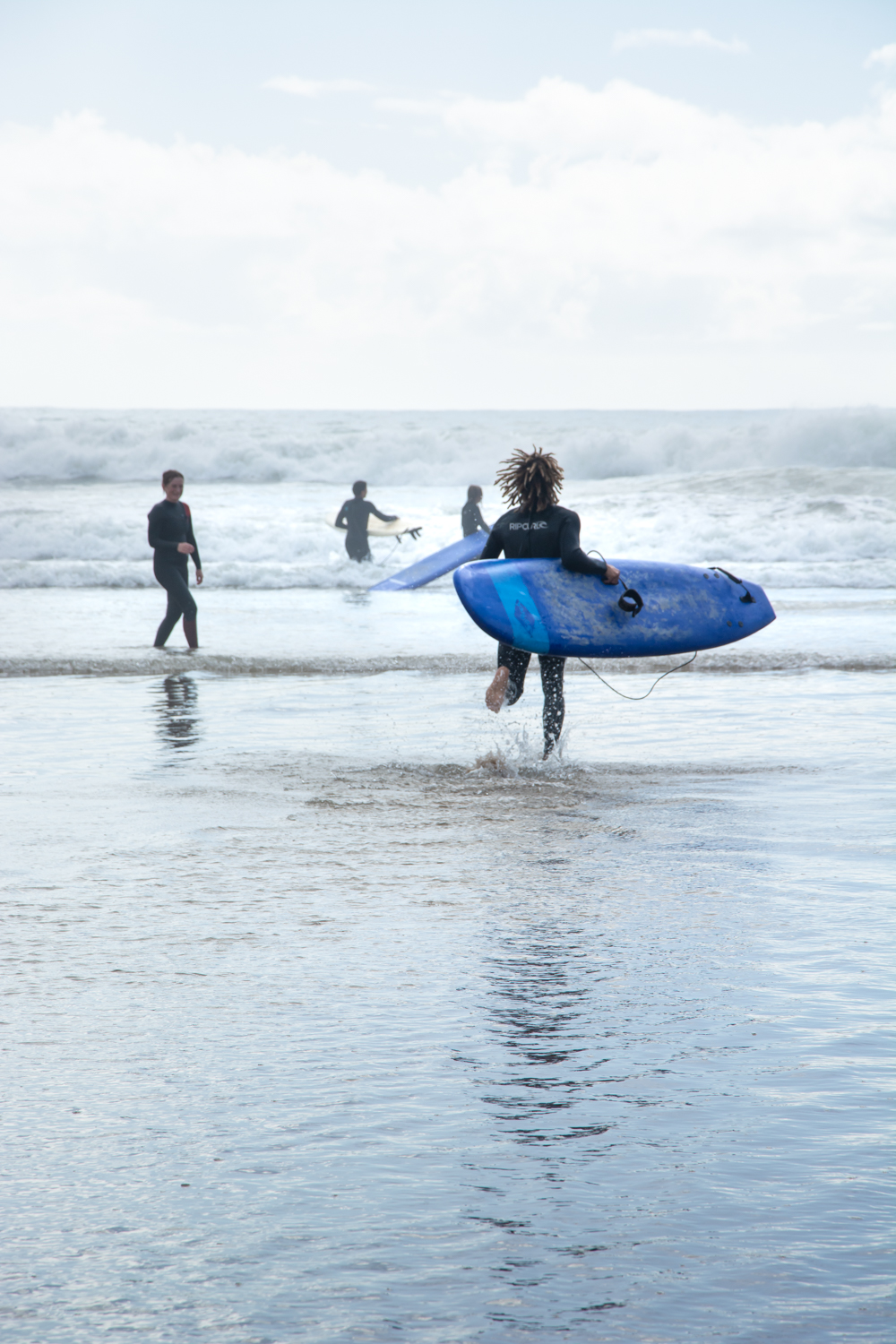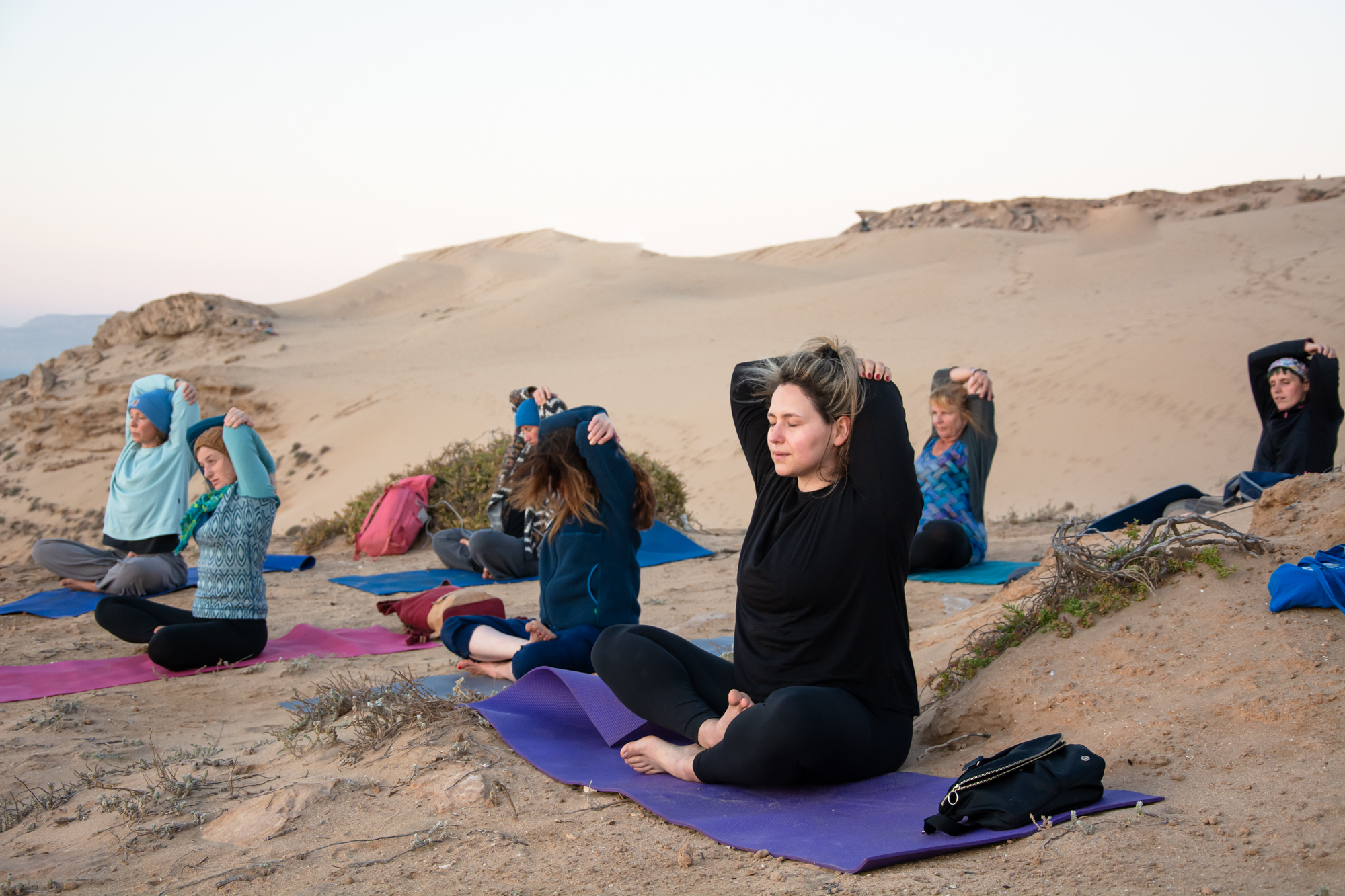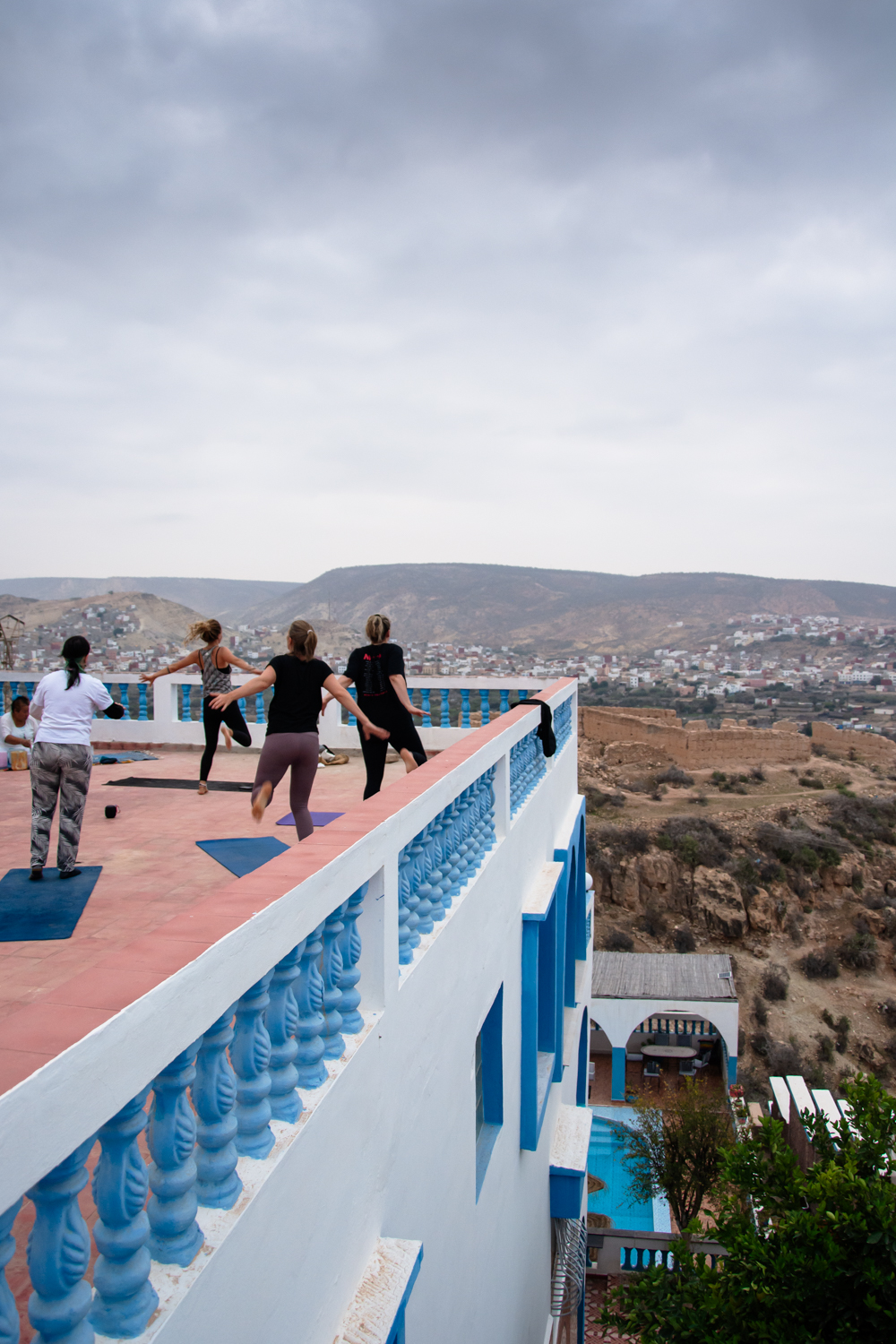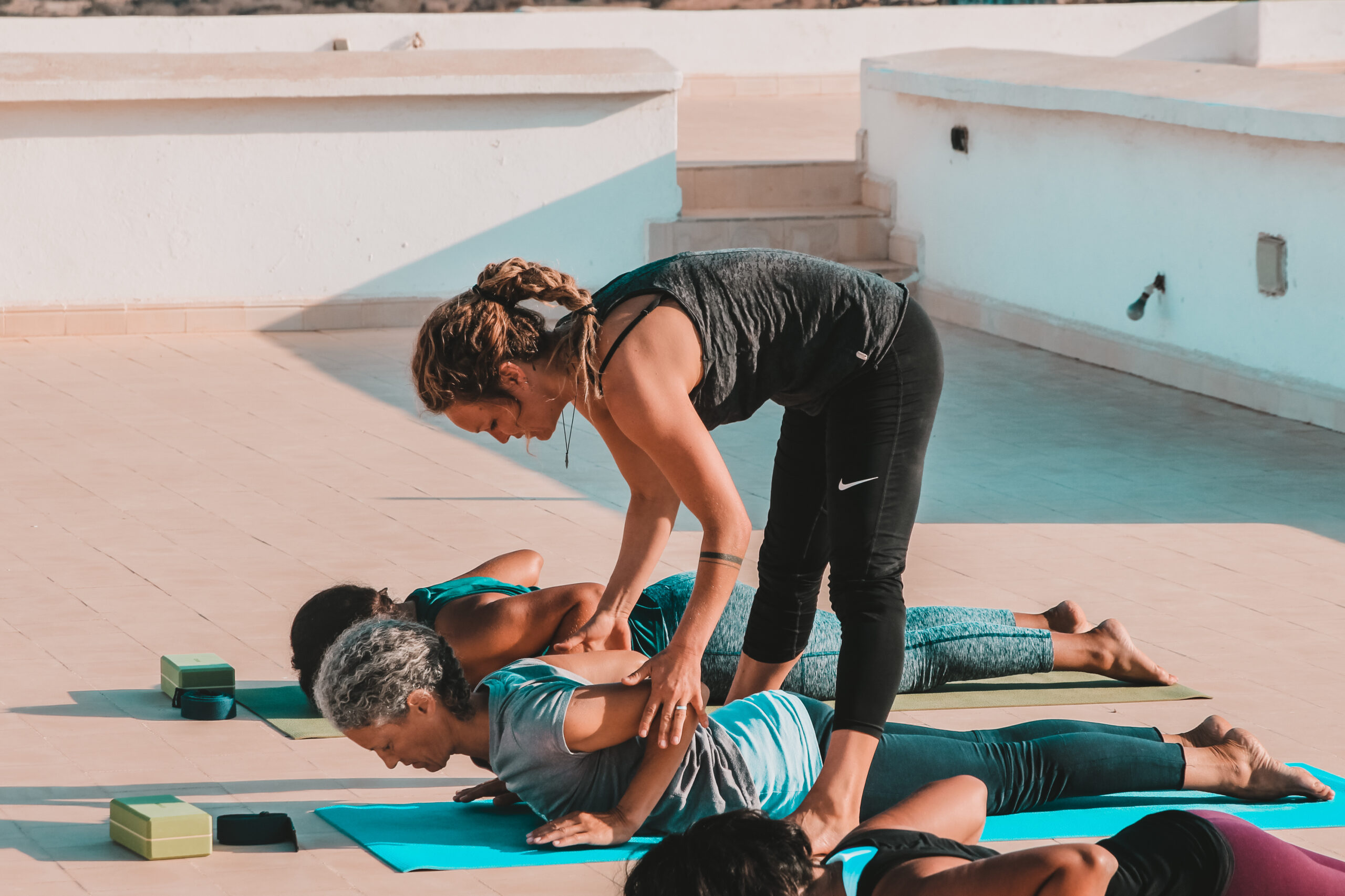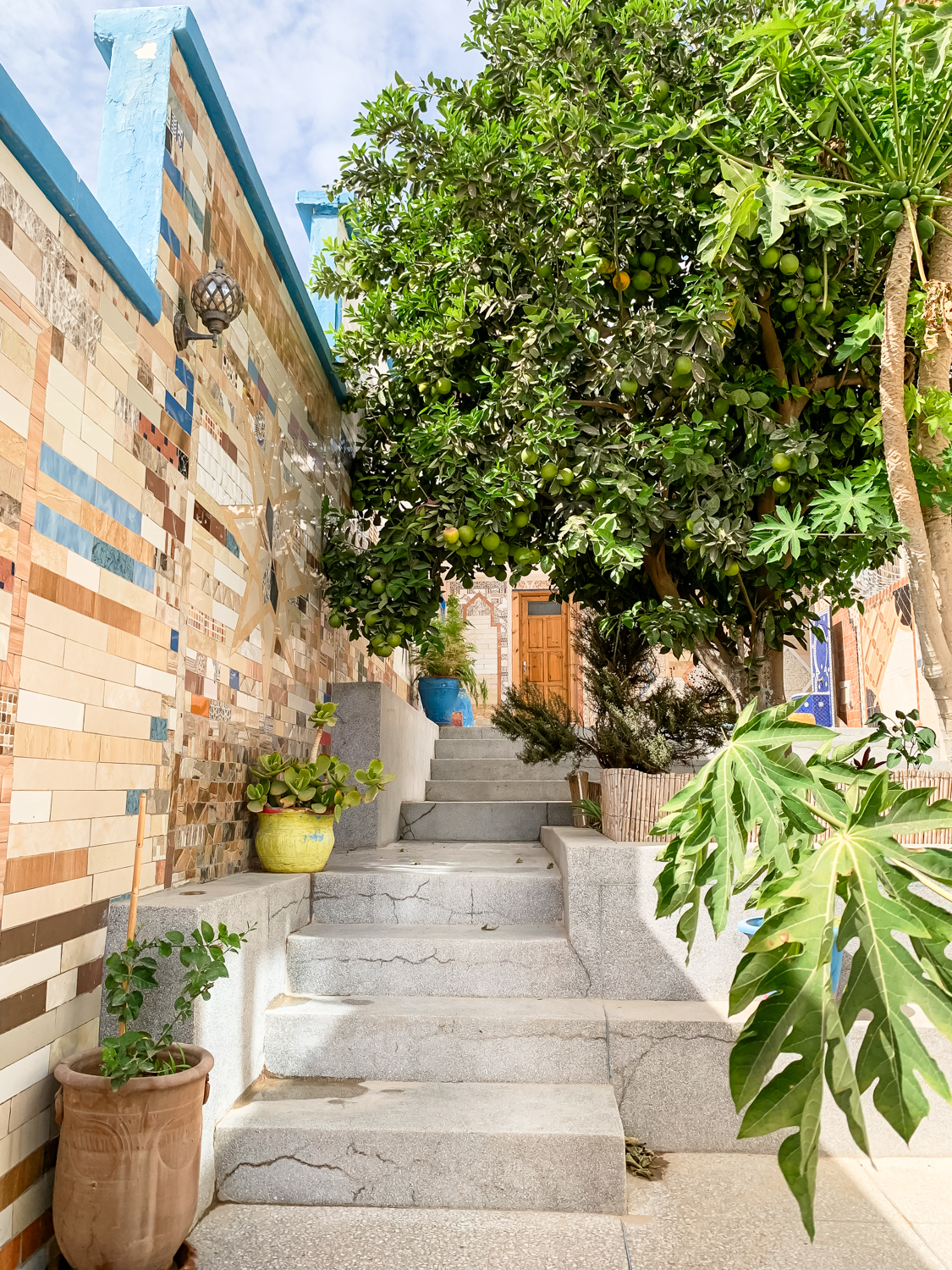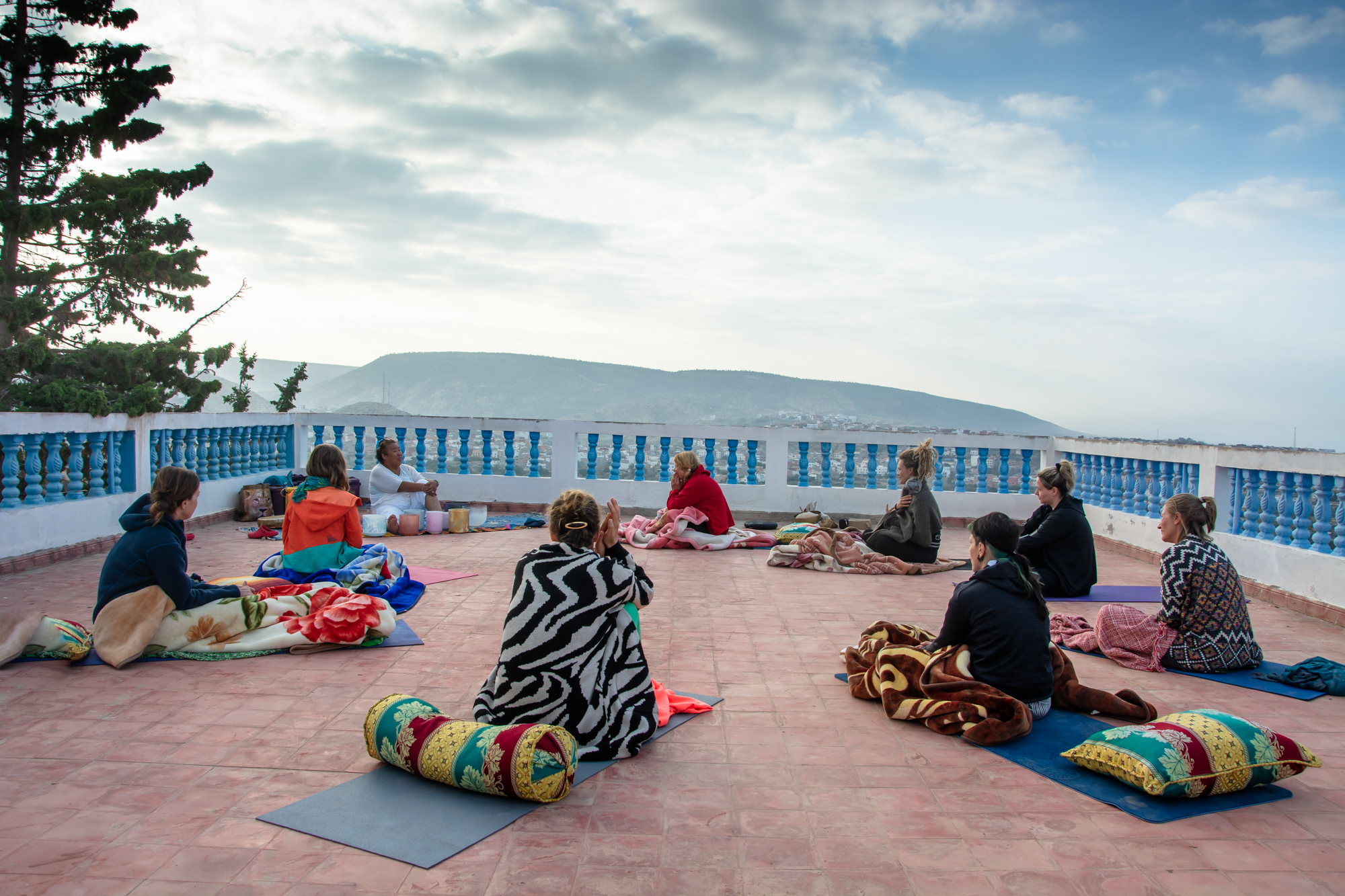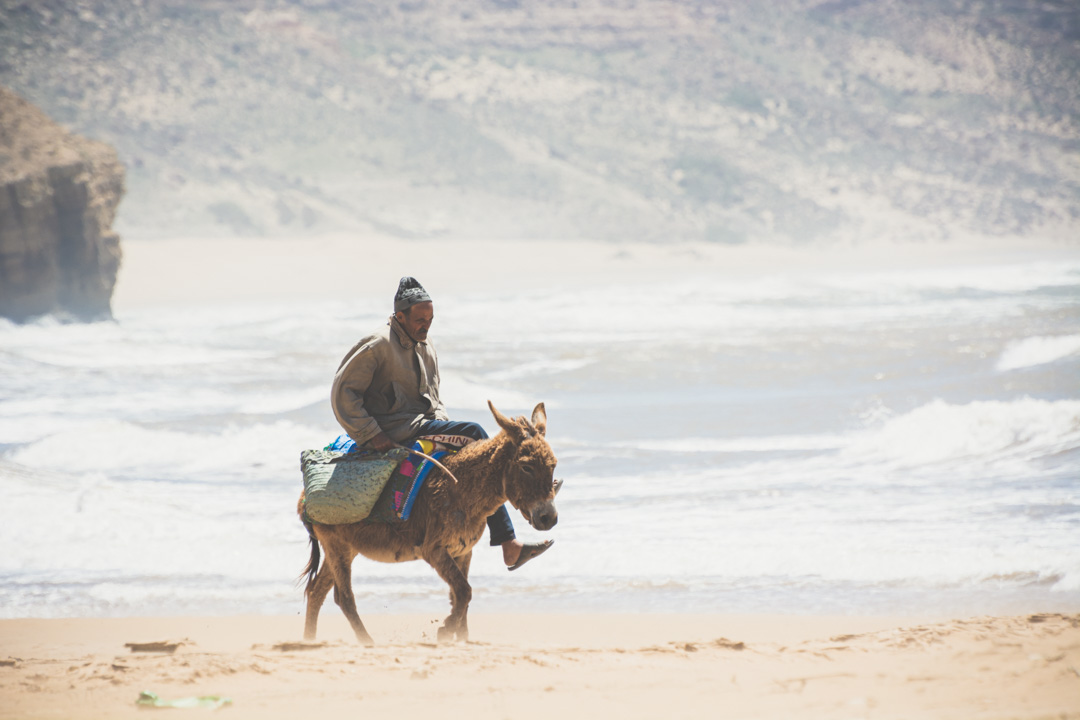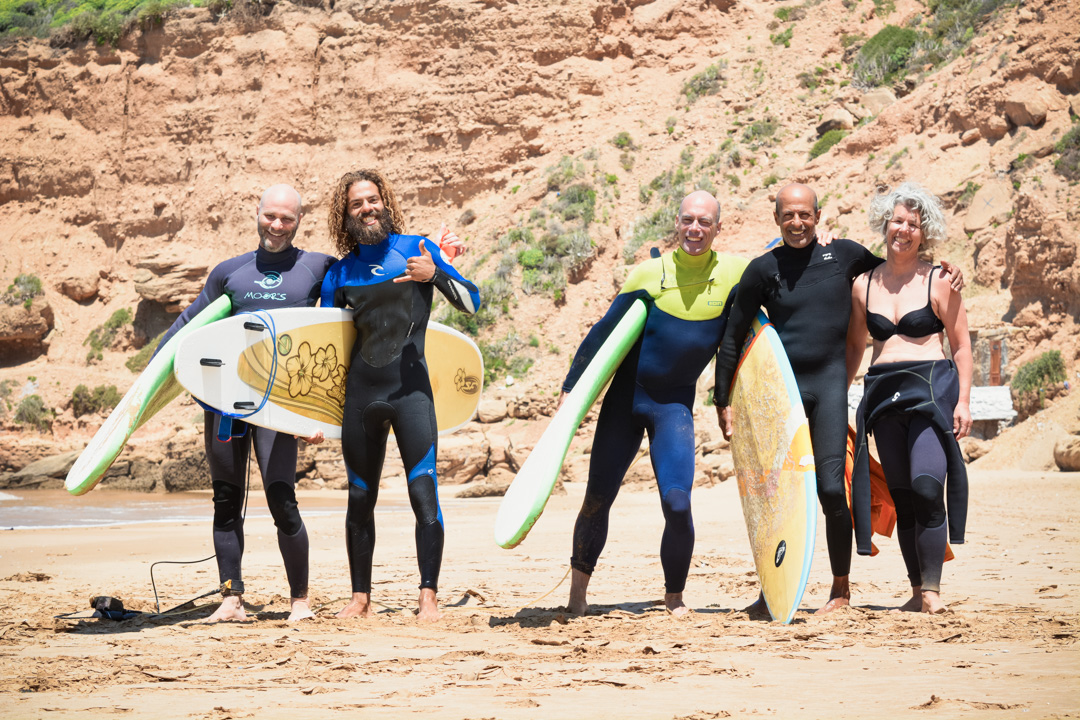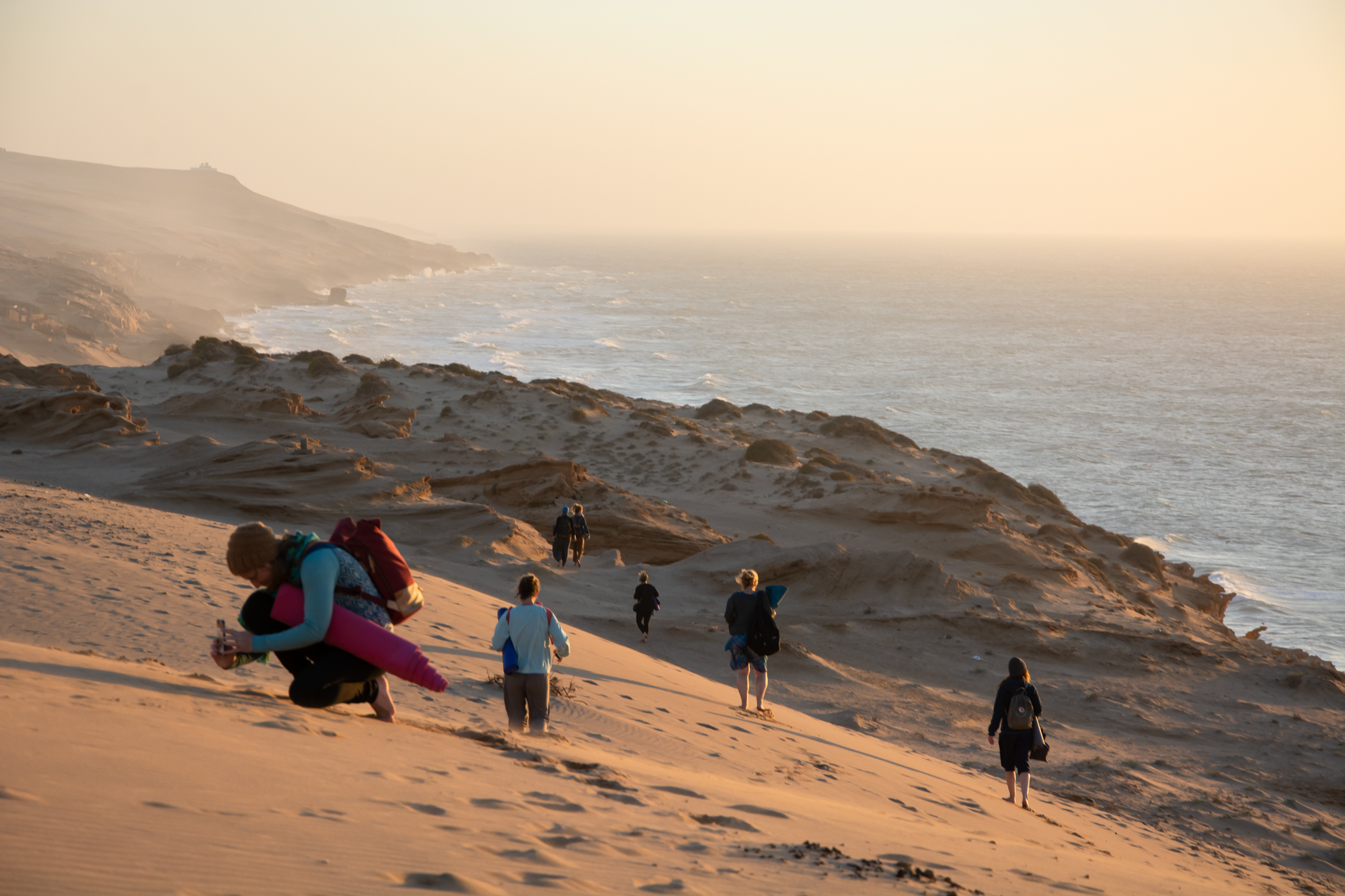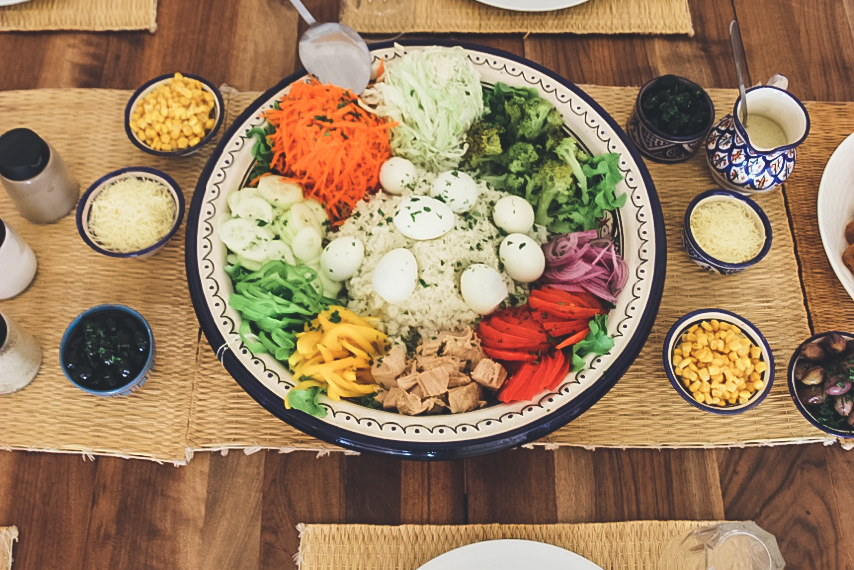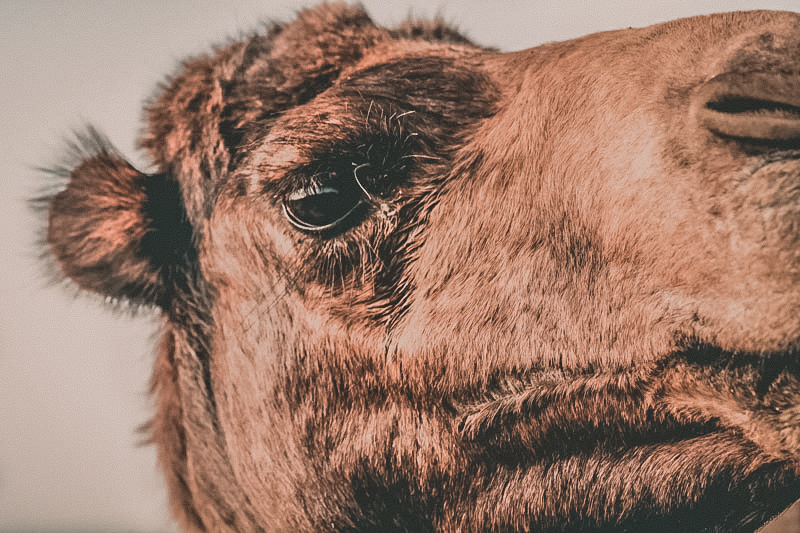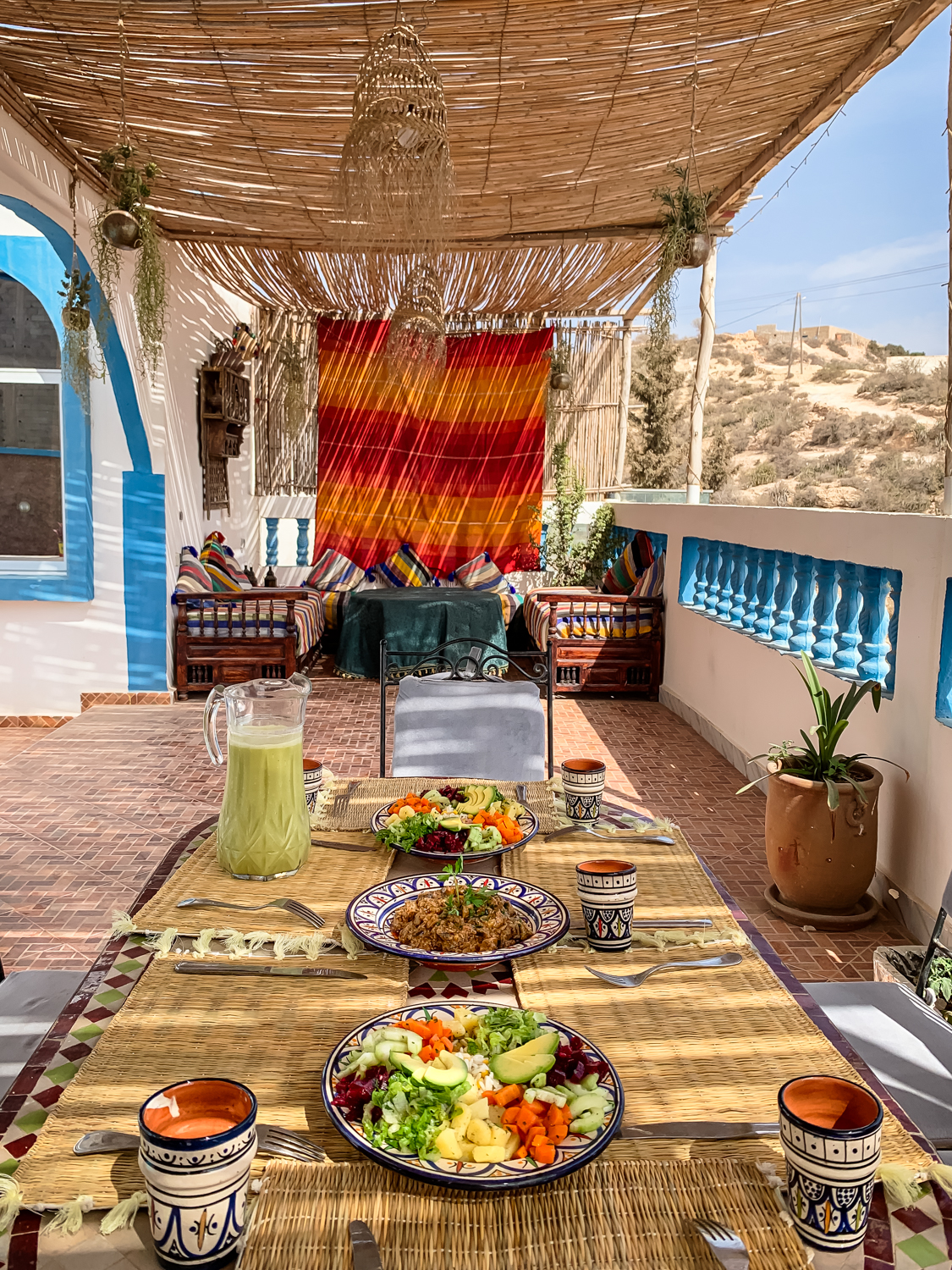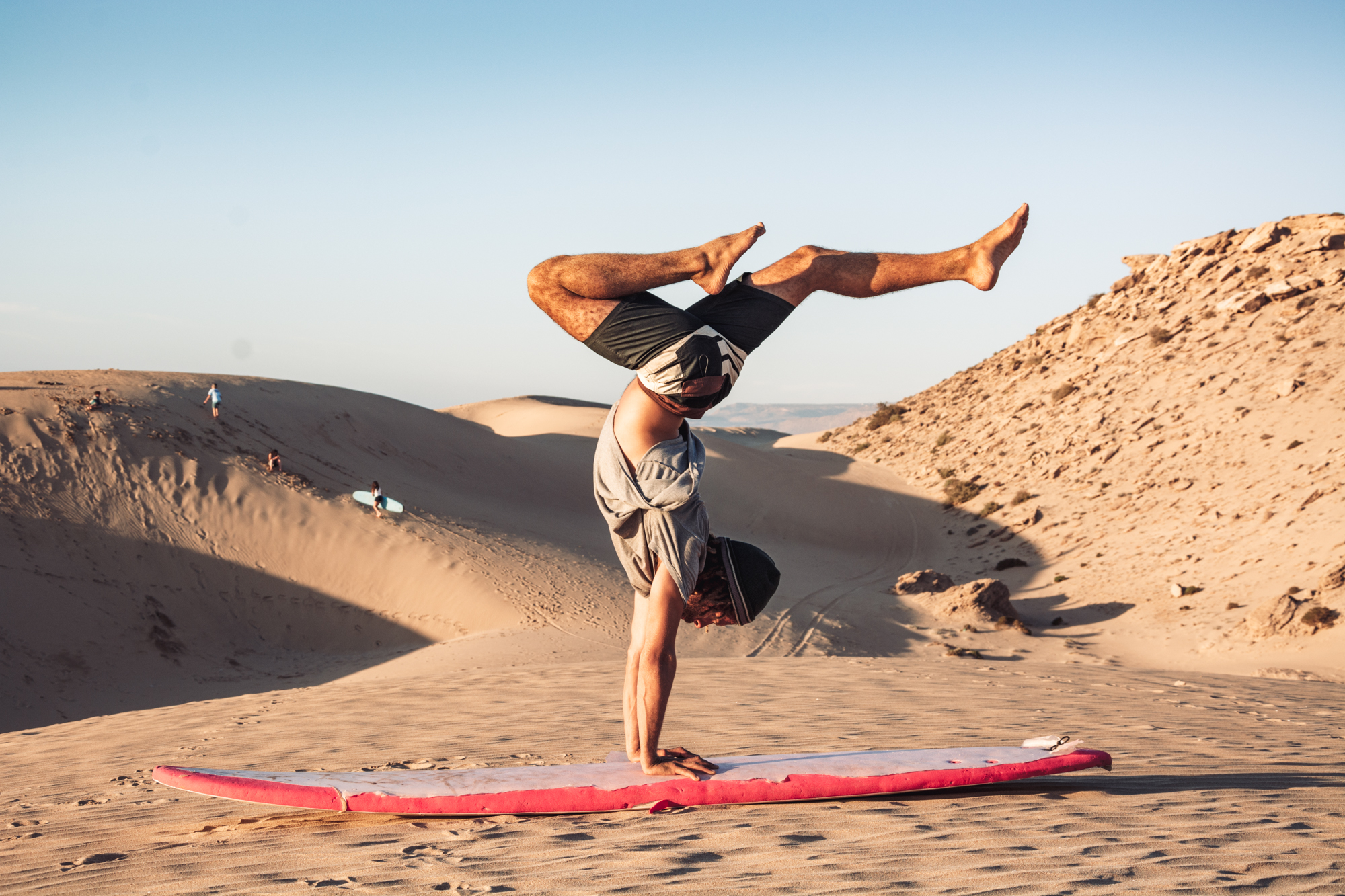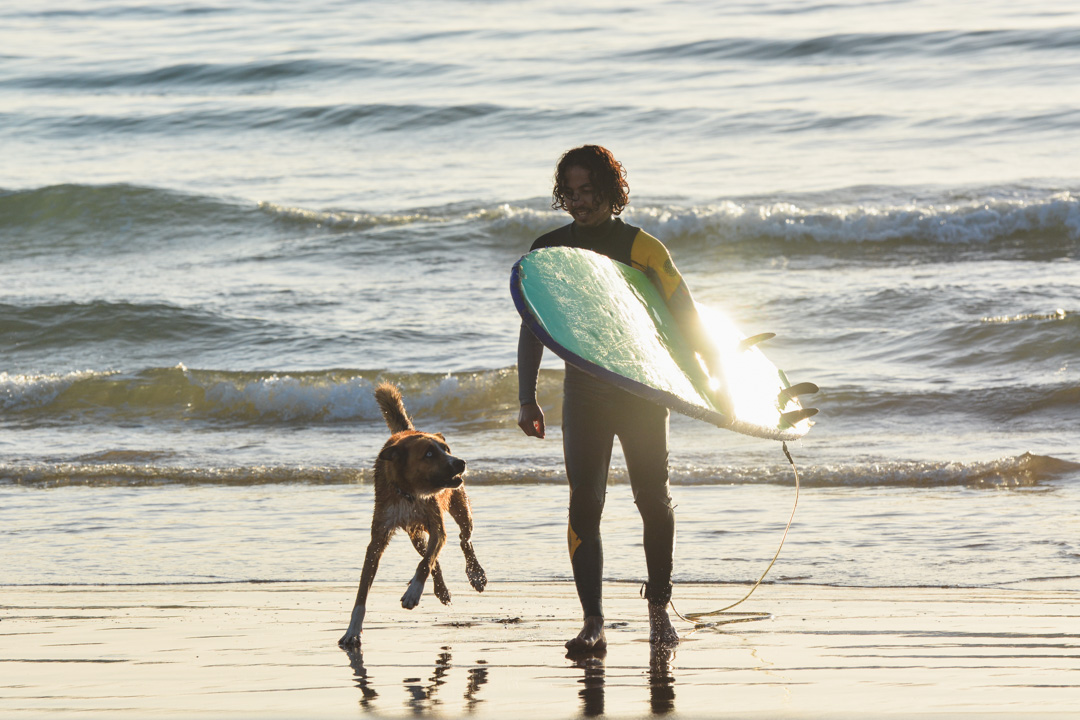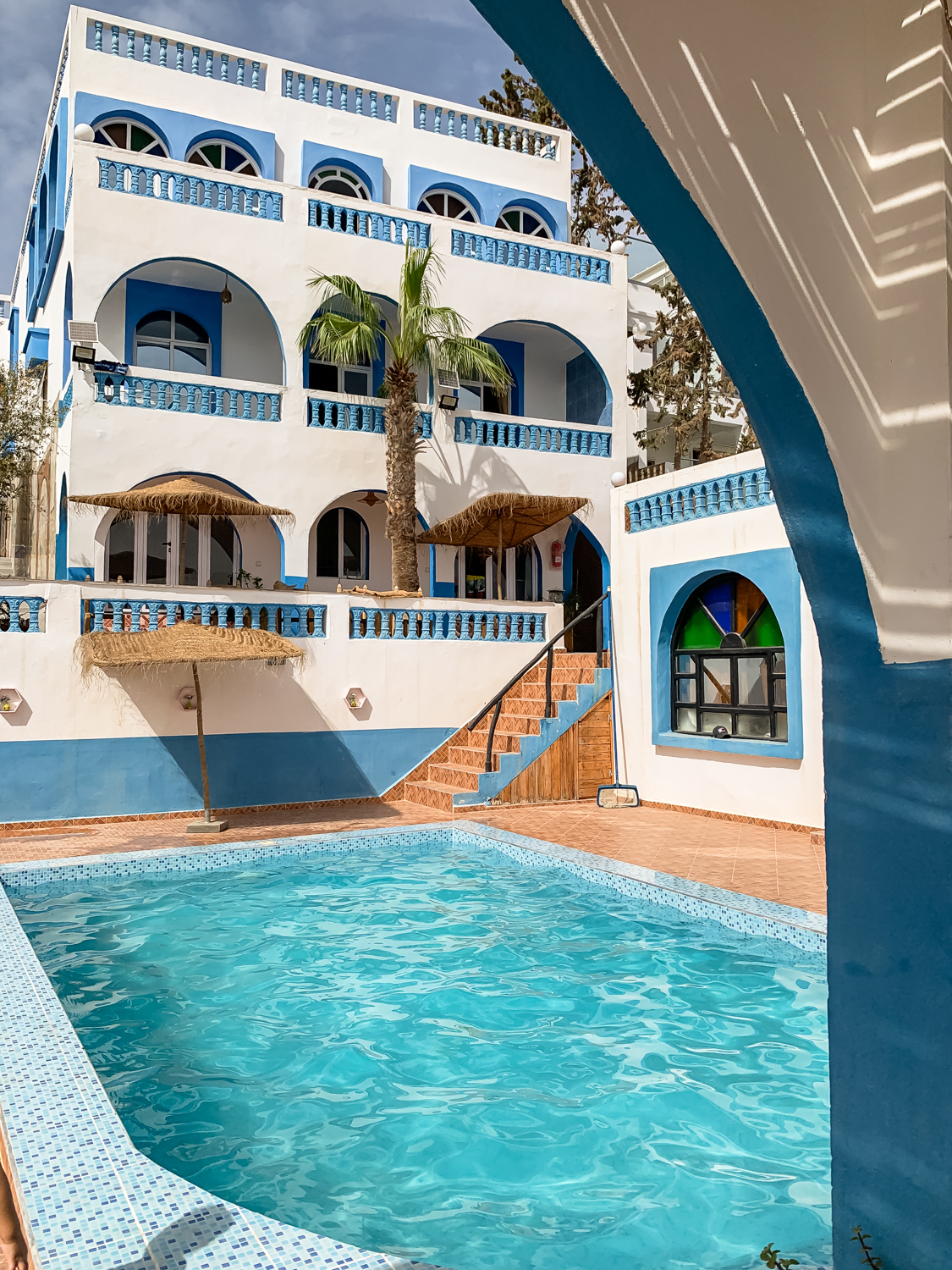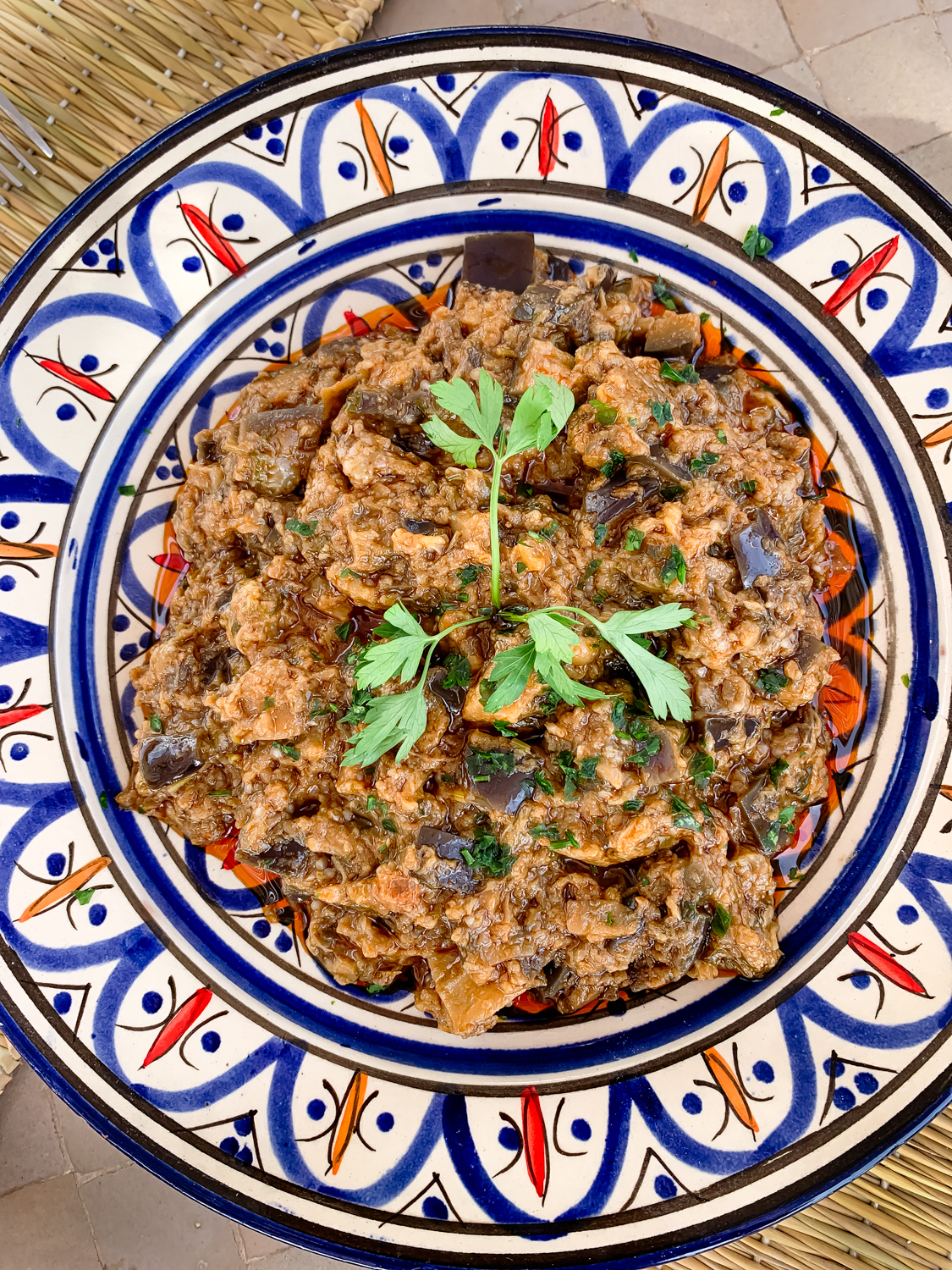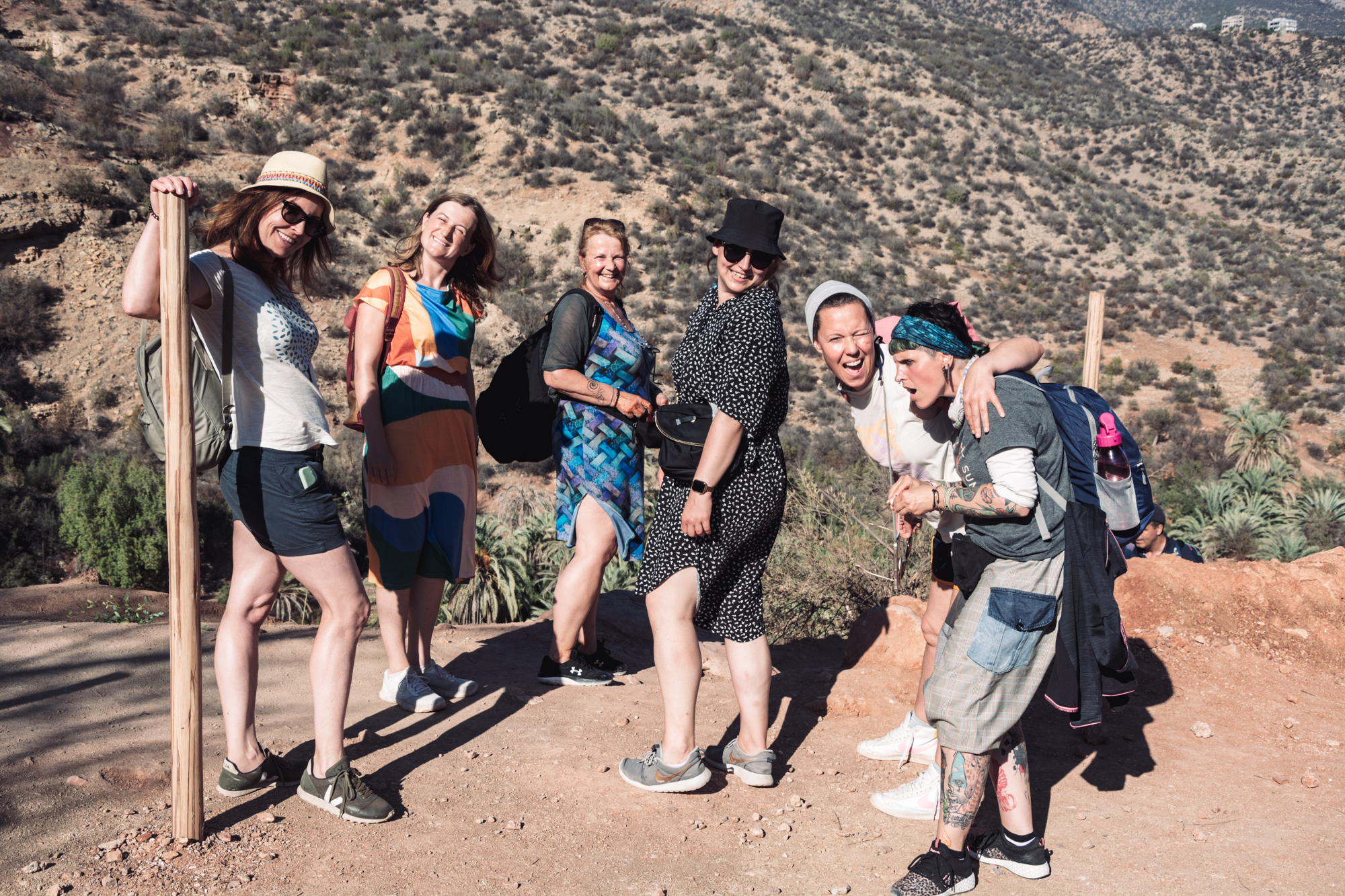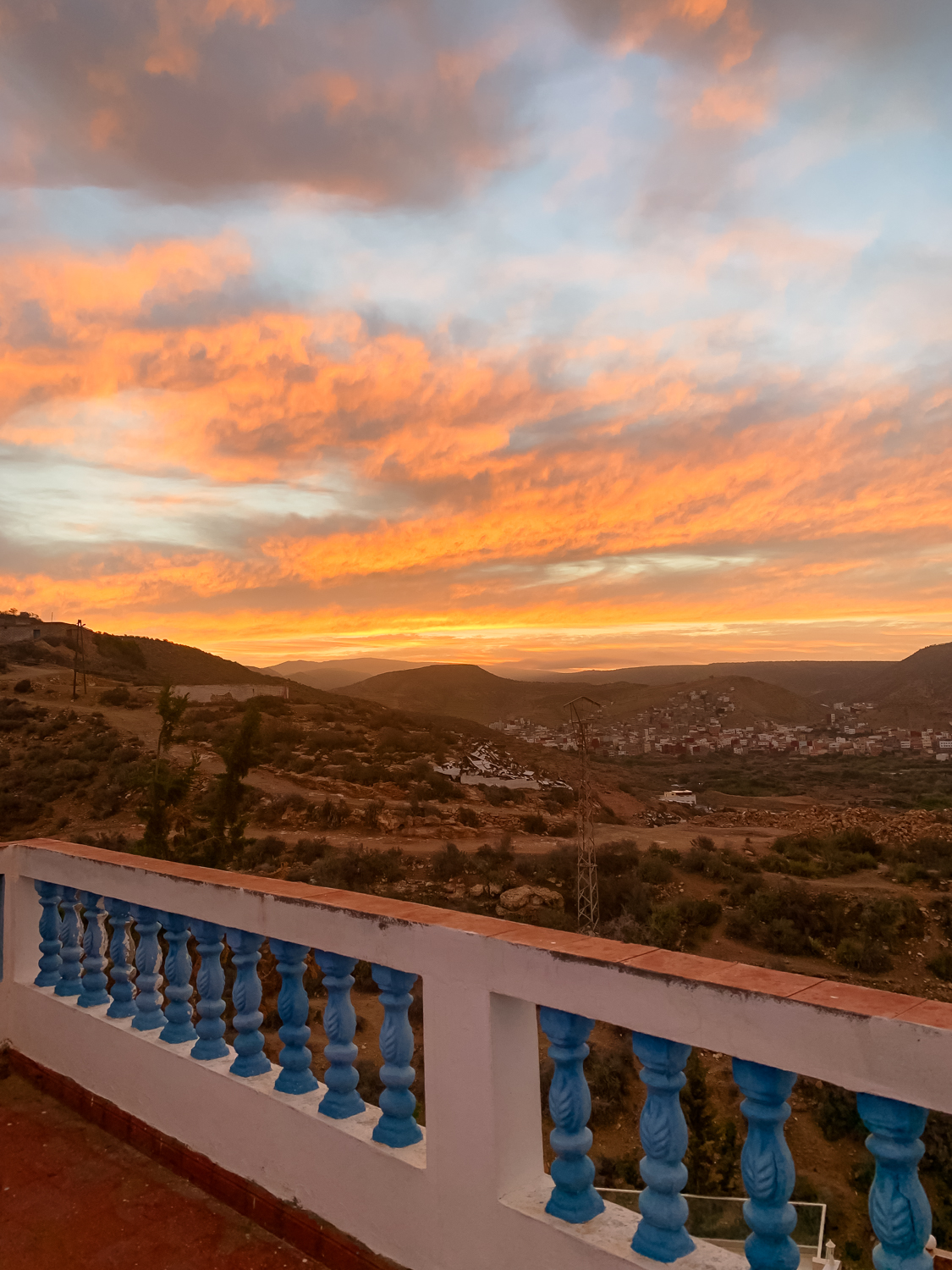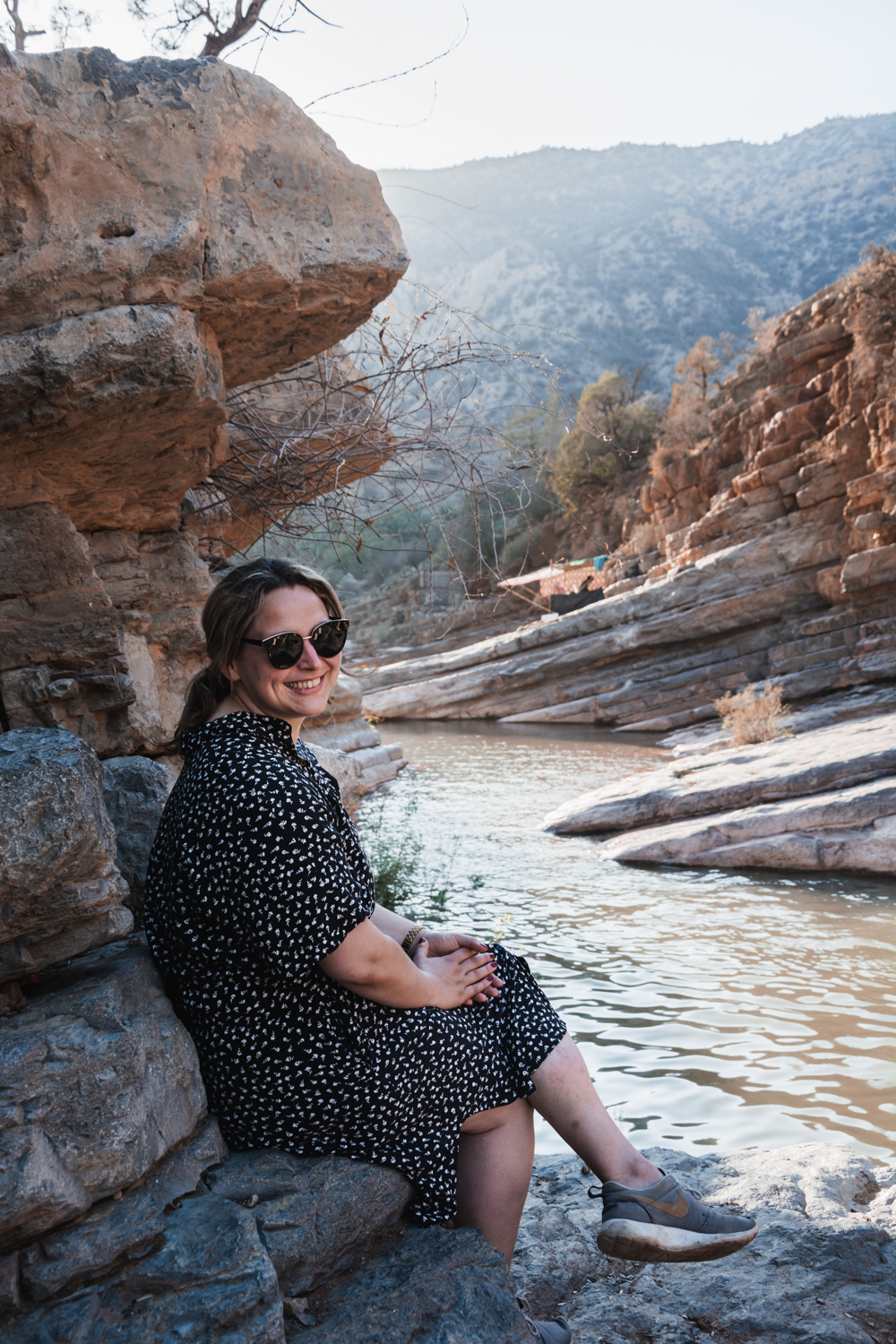 SECURE YOUR PLACE NOW. THE NUMBER OF PARTICIPANTS IS LIMITED IN ORDER TO KEEP THE RETREAT INFORMAL AND TO BE ABLE TO RESPOND TO INDIVIDUAL NEEDS.
PACKAGE OPTIONS
WHAT ELSE CAN I BOOK?
– additional surf coaching sessions, including surfboard and wetsuit
– guided hiking tour
– Moroccan cooking course
– massages
– Henna for the hands and/or feet
– Dromedary or horse riding excursion
– Excursion to Essaouira
– Souss Massa National Parkweitere Surf-Coaching-Sessions, inklusive Surfbrett und Neoprenanzug
– geführte Wandertour
– Marokkanischer Kochkurs
– Massagen
– Henna für die Hände und oder Füße
– Dromedar- oder Reitausflug
– Ausflug nach Essaouira
– Souss-Massa-Nationalpark
HOW TO GET FROM THE AIRPORT TO THE RETREAT

TAXI Agadir Airport/Tamraght, (approx. 45 minutes) 300 DH each way
TAXI Marrakech Airport/Tamraght (approx. 3.5 hours) 1200 DH each way
(let us know where and when you are arriving and we can book your transportation for you)
If you would like to book additional nights before or after the retreat, please let us know 🙂
A deposit of 200 euros is due upon booking, which will be offset against the seminar costs. The remaining amount is to be paid in advance up to two weeks before departure. 10 percent cancellation fee up to 8 weeks before the start of the seminar, 20 percent up to 6 weeks before the start of the seminar, 30 percent up to 4 weeks before the start of the seminar, 50 percent up to two weeks before the start of the seminar, 90 percent if the seminar is canceled up to 1 day before the start of the seminar.
If we are unable to hold the seminar on the date you have requested, we will offer you an alternative date. If you are unable to attend this date, we will refund your money.